Columbia products in the Polstor.pl store

Columbia products are of the highest quality, recognition on the international market due to their high quality, durability, functionality, design and use in the production of the most advanced technologies. The cooperation is based on direct agreements with selected stores throughout Poland. The choice of good quality clothing is of great importance to ensure your comfort during hiking in diverse conditions. That is why it is worth knowing which producers can offer users high quality at an attractive price. Among the valued brands providing excellent clothing for outdoor activities is the renowned American Columbia brand. Columbia Sportswear Company is synonymous with technologically advanced sportswear for all those who like outdoor activities and recreation, regardless of the weather. Columbia is a brand that, apart from prestige, guarantees comfort and safety of use.
The Columbia Sportswear portfolio includes brands such as Columbia, Sorel, Montrail, Mountain Hardwear, Pacific Trail. The Columbia assortment offers products in the following categories: outerwear, jackets, fleece, shirts, pants, softshells, sportswear, footwear and accessories. Department: Portland, Oregon, United States. See the rich offer, we present a wide range of interesting models in many colors, such as women's and men's Columbia jackets. You will certainly find something for yourself!

We recommend unique Columbia jackets

One of the most recognizable products of the Columbia brand are jackets - this manufacturer belongs to the pioneers of the market, introducing innovative solutions in the production of raincoats. The jackets already produced in the 1960s were resistant to moisture, and at the same time ensured a good air exchange, thus favoring practicing sport without the risk of overheating the body. Thanks to the use of a special Omni-Tech membrane, the effect of high resistance to moisture was obtained while maintaining excellent air permeability Columbia jacket - this original solution allows to prevent wetting even in the case of heavy rainfall.

Types of Columbia jackets in the Polstor.pl store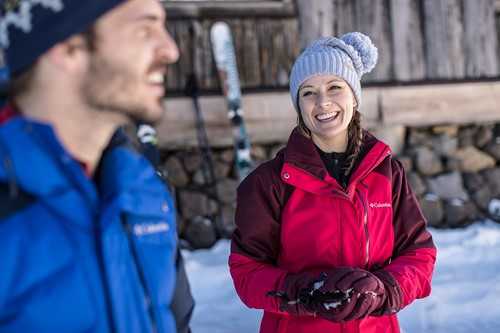 When choosing a jacket, it is important to adapt it to your needs. Columbia, offer sports fans and sports comfort attractive solutions that will work in different atmospheric conditions.
Protection against cold - if you are planning a workout or any other type of outdoor activity in the coldest months of the year or in places with low temperatures, choose specially prepared winter jackets. Short jackets provide high comfort and freedom of movement, while the parks also protect the lower parts of the back, the pelvis and thighs from chilling. Columbia also prepares warm down jackets. The undisputed protagonist of this collection is the Omni-Heat technology, an innovative group of technological solutions designed to maintain heat during outdoor activities. Omni Heat Thermal Reflective - helps regulate the temperature by reflecting and retaining the heat produced by the body, while allowing moisture to be drained, for a sense of comfort.
Rain protection - Columbia raincoats are universal products that can be worn on a daily basis as well as during various sports activities. Thanks to the use of modern materials, jackets acquire a unique appearance, while providing very good resistance to wind and water. When you are in the open air, you can not forget that the weather changes frequently - it is worth having a good quality jacket that protects against moisture. We recommend paying attention not only to the scope of protection against rain, but also to the functionality of the jacket - hood and collar as well as welts when finishing the jacket. You can find more details on our website.
Wind protection - windproofing is an important feature of outodoor clothing, not only in winter or autumn, but also in spring and summer. When the cold wind makes you feel cold and feel the severe effects of cooling your body, especially in the mountains or by the sea, so check out the offer of Columbia jackets and softshells.

Attractive Columbia products

The Columbia b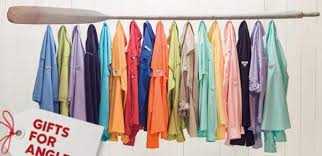 rand is not only jackets - the manufacturer also recommends other items of clothing, such as warm shirts and blouses, comfortable pants with a functional cut or accessories designed specifically for winter sports, running or climbing. At Polstor.pl you will also find perfectly designed products for people who like to go on long journeys and campsites. Thanks to many years of experience and knowledge of the needs of users of out-of-out clothing, the brand can offer its clients comfortable, functional solutions. We encourage you to familiarize with the offer of the Columbia manufacturer available in the online store Polstor.pl.

Columbia shirts make you look elegant at the same time and prove themselves during active spending, and this season is experiencing a real renaissance! All Columbia shirts have Omni Shade sunscreens, Omni Wick breathable properties, in particular we recommend shirts from the PFG collection. They will prove themselves in all conditions, and the Columbia brand guarantees satisfaction. Columbia shirts have been sewn from soft, selected fabrics, ideal as an excellent addition to any adventure, they will work in different weather conditions. We offer quick-drying shirts that perfectly wick moisture away, providing thermal comfort and long-lasting dryness and shirts for the winter season. Check the offer. Shirts are a universal element of everyday clothing as well as during trips. They are ideal as a base layer and during hot days.